Some software synths are really amazing. Anyway, to be honest: i prefer hardware instruments.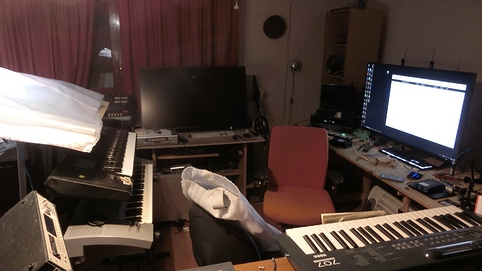 So, a hybrid solution always fascinated me. I was seeking for a way to bring zynaddsubfx (i love it) on stage without dealing with a pc. Then i found Zynthian project and I joined with great pleasure.
Now, after over a year the platform is stronger and with much more versatility. And finally i started including it in studio recording and soon will take part of one of my live gears.
I decided starting with a new songs for my electronic duo, Mr. LIE and probably with subsequent stuff.
While testing i'm used to play zynthian directly, with a mini usb keyboard. This condition always gave me best sounds and improvisations. So the only way to have them permanently was to record live sound without midi tracks.
I used just Ableton Live, a simple M-audio M-track and mono audio line in from Zynthian. Yes, quite rough
Drum kit (a Pearl from Linuxsampler) played manually, then loop recorded and quantized (Live does it very well). Then a couple of synth patches by zynaddsubfx (my beloved), each one recorded one at a time on separate audio tracks. So, everything in a sort of old-fashioned just audio recording.
There is a reason why i'm doing this:
Over the years soft synths plugins and relative DAWs change releases, compatibility, and most of times i almost lost original edits beacuse of software obsolescence.
The only "immortal" is a pure almost-irreversible recorded audio signal. That sound, whatever it is, will be there. Even if i must change DAW over time, the only hassle is reordering and remixing tracks.
For this reason Zynthian, acting as a great plugin hardware workstation, is welcome in my world.
I'm so proud to contribute to a really genuine, open minded and powerful sound concept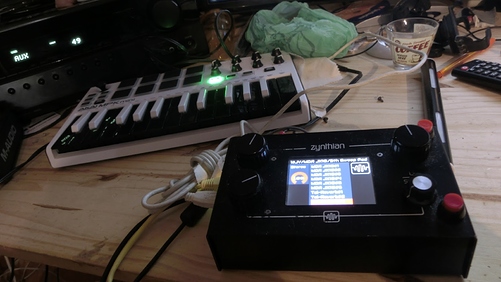 Ivan Monterosso