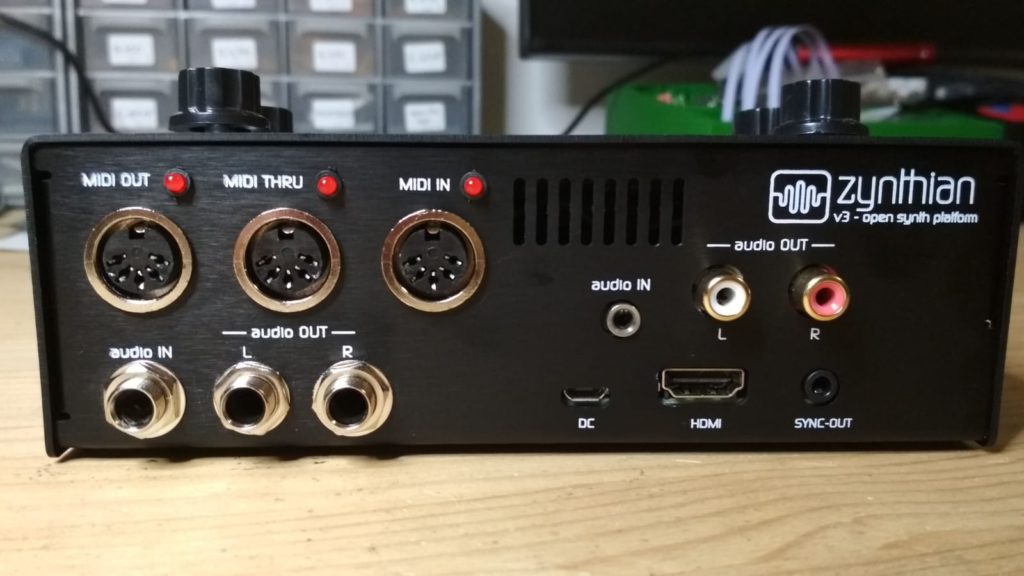 WARNING: HifiBerry as recently changed the specification for the DAC+ADC. It seems that the balanced input is not working as expected and it's been removed from the specs. The new HifiBerry DAC+ADC PRO includes a true balanced input among many other improvements.
We are very proud to present the Zynthian Kit V2+, the new official flagship, featuring the amazing Hifiberry DAC+ADC as soundcard.
As you may note, the "ADC" (Analog/Digital Converter) in the soundcard's name announces the difference: the new official kit now has audio input and yes, this makes a big difference!
Although zynthian's software supports audio input from some time ago, it's been an experimental feature, only accessible to the more intrepid zynthianers, those that build its zynthian boxes using the bones from wild bears hunted with his hands … until now!! 😉
From now on, audio input will be available for every zynthian builder, also for musicians with fewer technical skills, but lot of musical ideas for taking profit of the real-time audio processing capabilities of V2+.
Do you want to use it as a crazy stombox for you guitar? Adding some effects to your voice? Filtering the sweet sound of your Kalimba? Or simply recording some tracks? The possibilities are almost endless, and the list of effects really loooong: reverbs, filters, EQs, compressors, dynamics, flangers, chorus, echos, delays, wahwah, rotary, cabinet & amp emulators, etc.
You can use the Zynthian UI for creating simple (linear) fx-chains and the fantastic MOD-UI for creating your more bizarre fx-dreams … or nightmares! ;-
… and we are working hard for improving it!! More options, more effects, more fun … and more accessible for everybody!
These are some of the key features of the new official Zynthian's soundcard, the Hifiberry DAC+ADC:
Stereo input and output
Dedicated 192kHz/24bit high-quality Burr-Brown DAC
Dedicated 192kHz/24bit high-quality Burr-Brown ADC
Three ultra-low-noise linear voltage regulators for optimal audio performance
Balanced input: 12db gain
Unbalanced input: 0, 12 & 32db gain
Some technical specs:
Maximum input voltage
2.1Vrms
4.2Vrms for balanced input
Maximum output voltage
2.1Vrms
ADC signal-to-noise ratio
110db
typical
DAC signal-to-noise ratio
112db
typical
ADC THD+N
-93db
typical
DAC THD+N
-93db
typical
Input voltage for lowest distortions
0.8Vrms
typical
Power consumption
<0.3W
Sample rates
44.1-192kHz
And the full documentation:
https://www.hifiberry.com/build/documentation/datasheet-dac-adc/
Stay tuned … and enjoy!!