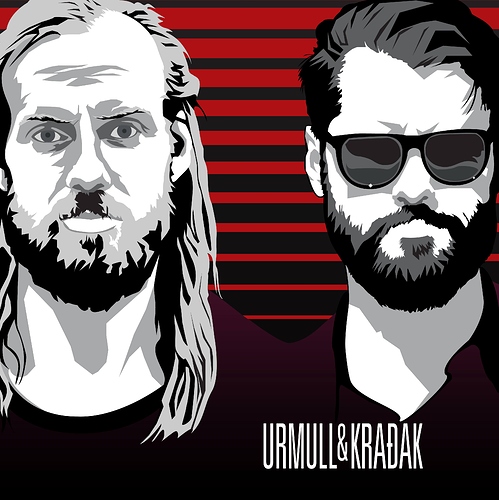 Jofemodo: Why do you exist? (Urmull&Kradak)
Ragnar: Urmull & Kraðak is a cooperation art project between two friends that have been playing music for 20 years but have not until now started playing as a duet. We found the time and mental space to start composing and releasing last autumn. It was soon clear that there was an EP on the horizon. We have been so lucky to be able to get a lot of talented artist to help us, musicians and artist.
Jofemodo: Could you define your music? Do you have some clear influence? Where do you feed your inspiration?
Ragnar: The inspiration for Sápa is very much 90' Triphop. You could also say that electronic and hip hop artist of the time are a huge inspirations. Madlib and J Dilla could also be noted as inspiration. Our newer singles are more electronic indie and pop based.
Jofemodo: Is U&K a studio project or a live band? Both?
Ragnar: As of now we are releasing a new single every month and only a studio project. But we have been gathering artist; singers, drummers and guitar players that have been collaborating on our singles so that a live setup is looming on the horizon. Especially when we power through Covid.
Jofemodo: You play keyboards… Could you tell me something about your setup?
Ragnar: I have a very simple setup, A Nord Electro 2 that serves as a midi keyboard and controller, a Zynthian v3 kit, Presonus Interface, Reason Studios and just recently a Behringer Ms-1. Less is more.
Jofemodo: How did you know about zynthian existence? Was it a love at first sight?
Ragnar: I was mainly a Rhodes/piano player but I wanted to get into playing synths, I wanted to play thick lustrous pads and I wanted organic analog sounding lead lines. If I were to get that package my investment needed to be huge, way out of my budget at the time. Being a Raspberry Pi nerd I always wanted to build my own synth using Rpi but didn't have enough programming skills to build my own. When searching for Raspberry Pi synth I found Zynthian that could play a whole array of synth emulations at a great price point while still being gig-able, I could take it with me and play it without having to setup my laptop and interface. A standalone package. After I started using It I found out I could also play Rhodes, Wurly, Piano and Hammond that sounded a lot better than my Nord, then Zynthian was a total no-brainer.
Jofemodo: Sapa is your first work using zynthian… How zynthian fits your creative workflow? Have zynthian added something new to your way of creating music?
Ragnar: I love that the Zynthian is a physical package. I can find a lot of sounds on my DAW but having the Zynthian in my hands does add a lot to my creativity. I can't quite pin down what it is but working the UI (that can sometimes be a bit quirky, but that is not a negative) does help me find ideas and sounds for my projects.
Jofemodo: Do you intend to use it on future works?
Ragnar: Yes. Both on Urmull & Kraðak songs and as a stage instument.
Jofemodo: What about live performance? Are you using it on stage?
Ragnar: Yes, now I mainly use it as a Rhodes/Wurly/Piano/E-piano sampler with effects live. But when we start an Urmull & Kraðak live act I plan on using it also as a synth engine.
Jofemodo: What are your favorite engines/presets?
Ragnar: By far my favorite is OBXd. It has a huge range of possibilities and it sounds really analog and thick. I use it a lot, for pads, effects and lead lines. Raffo can make very nice lead sounds and then the two samplers are my favorites.
Jofemodo: What are, according to you, the main zynthian's flaw? What would you like to see implemented/fixed in the next months?
Ragnar: I woule like to be able to rearrange the instrument controls f.x. I would like to be able to put first all VCO controls and then the filter cutoff and resonance or something that suits me for that occasion. Also I would like to be able to give snapshots temporary names in the UI so that I wouldn't need to open the Webgui to name them.
Jofemodo: Zynthian is a community driven project … could you tell me something about your experience in zynthian community?
Ragnar: Anytime I have had a question or a problem the community has always had an answer for me. The discussions are fun, sometimes very technical and always inclusive so that us, Linux semi-nerds, can take part. We even had a competition on who could recreate the Jump synth sound (I sunk a few hours into that one). The sound samples on the community were a huge selling point when I decided to go Zynthian:
Jofemodo: Some gig on the horizon?
Ragnar: While we are still facing Covid we are planning to release one single every month (three of them live now! check out our Spotify to listen) but then we are planning on making live versions of our work. Stay tuned!
---
Listen the full album on Spotify: