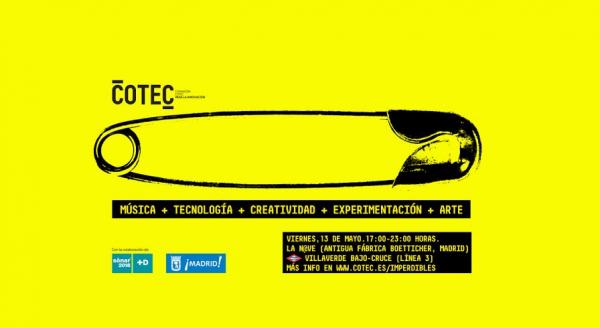 Sónar+D will showcase a selection of projects from companies, creative labs and scientific research centres from Aragon, Catalonia and Madrid at La N@ve (f.k.a. Fábrica Boetticher) on Friday 13 May from 5 to 11 pm.
Zynthian Project has been invited to take part in the event as an expositor. We will have a 16m2 stand, where we will show our prototypes and some funny experiments that we are preparing for the event.
IMPERDIBLE_01 is a conference on technology, creativity, experimentation, art and music organised by Cotec Foundation. Works on music technology, virtual reality, 3D printing, citizen science, live coding, collective experimentation and open source code will be presented in 12 stands and a series of showcases.
At the same time, Italian duo Quiet Ensemble will perform 3 times their outstanding tech-show about the sound of the light, where the instruments of an orchestra are replaced by lamps of different shapes and sizes. The night will close with Barcelona-based DJ2D2, one of the most respected DJs in the Spanish scene.
The event will be held at La N@ve (f.k.a. Fábrica Boetticher), in the district of Villaverde (Madrid),  from 5 to 11 pm.
The places are limited. All activities are free of charge, but registration is required at this link.
http://www.cotec.es/imperdibles/